Publication date: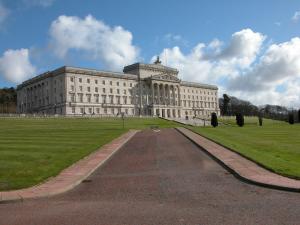 Today the Living Law students visited Parliament Buildings. They were welcomed by the Attorney General and then provided with a brief history and workings of the Assembly by Anne-Marie Fleming. Brenda King, First Legislative Counsel, was able to explain further the process of law making within Northern Ireland and her role within that.
After a short break the group were joined by the Committee for Justice Chairman Alastair Ross MLA and Deputy Chairman Raymond McCartney, MLA, followed by The Speaker Mr Mitchel McLaughlin MLA. The young people were invited to pose questions to all guests and enjoyed a candid discussion providing insight into their professional roles and personal lives.
The students were guided to the viewing gallery of the Senate Chamber to witness the Assembly in action before the conclusion of their visit.