Publication date: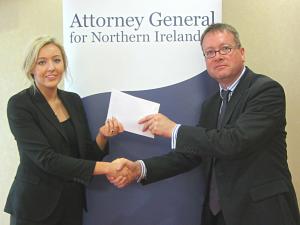 The competition was open to this year's Bar Pupils who were each invited to submit an essay on the topic 'In 2015 Magna Carta is more a focus for legal self-congratulation rather than a living constitutional instrument'.
The Attorney General's purpose in the scholarship is to give support and recognition to newly qualified barristers in Northern Ireland. The winner receives a bursary of £2,000 and is given the opportunity to undertake 20 hours of Pro-Bono work for the Office of the Attorney General.
This year the runner-up was Emma Tremlett, barrister, who along with the winner, has now been added to the Attorney's Recently Qualified Junior Counsel Panel.
Speaking at the presentation, the Attorney said:
"I'd like to congratulate Leona on her successful essay, the high quality of which augurs well for her career at the Bar. I would also like to thank all of the counsel who submitted essays. This was not an easy competition to judge and I extend my congratulations also to Emma on coming a close second and on joining my recently qualified panel."